Interview with our Sales Director: David DEHAGUE
Could you briefly present AAF La Providence to us?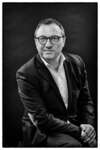 La Providence is a service company specialising in cleaning. With 14 agencies in Paris and the Ile-de-France region, as well as 4 outside Paris, La Providence operates every day over more than 4 million m² and offers a range of tailor-made services to its clients, from landscaping to pest control, mail management to minor maintenance.
Our purpose is to satisfy the needs of our clients, and to provide occupants with a pleasant working environment. The services we provide have a positive impact on the quality of life at work (QWL) and play a key part in improving well-being at work. This is why, in addition to our cleaning services, we offer "well-being at work" solutions by holding eco-responsible events.
What are you responsible for at La Providence?
My mission is to set up and deploy a commercial strategy to boost the company's sales and increase the turnover while protecting our existing business.
My role is also to manage, lead and train the sales teams by keeping them motivated and support them in the follow-up of their strategic client accounts.
What is your professional background?
I started my professional career twenty-six years ago in the cleaning industry in Brittany in the North West of France. For six years, I held various positions as an Account Manager, Business Manager and then Agency Manager.
For five years, I then worked in the world of temporary work as an Agency Manager and then as a Regional Manager.
In 2010, I joined La Providence as Agency Manager for two years, before becoming Sales Director.
What do you think are the most important qualities to have in this profession?
Even if listening is one of the most crucial skills in our profession so we can propose an offer that perfectly meets the needs of our clients, it is first and foremost essential to be passionate about selling. You have to really enjoy selling, being convincing, having a creative and positive mindset and having the ability to pay attention to every single detail to ensure that you offer the best possible service.
Last but not least, interpersonal skills and negotiation skills are also very important to build solid and long-lasting relationships and partnerships with clients.
How does La Providence stand out from other cleaning companies?
La Providence started out in the hotel industry in 1961 and has since made its mark on the industrial cleaning market, recruiting teams specialising in the service sector, particularly in the hotel industry.
We provide services to head offices, luxury boutiques, theatres, etc., in the same way as we would in a hotel, our site managers taking on the role of hotel housekeeper manager.
With more than 850 clients, La Providence has successfully developed a wide range of hotel services for companies.
Furthermore, La Providence stands out for its great observance of the essential principles of our profession such as being available, efficient and honouring commitments.
Through its services, it also implements a genuine CSR strategy, along with innovation and digital technology, all of which are essential to the continuous improvement of our service business.